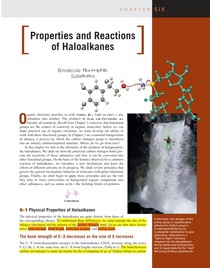 36 pág.
Vollhardt Capítulo 6 (Haloalcanos)
Pré-visualização
16 páginas
marked effect on anti-infl ammatory potency. Fluticasone is 
one of a growing number of synthetic pharmaceuticals in 
which replacement of hydrogen by fl uorine either generates 
novel therapeutic behavior or enhances properties already 
present. As the smallest element in the second row of the 
periodic table, fl uorine is closest in size to hydrogen. There-
fore, fl uorine-containing molecules are sterically similar to 
their natural unsubstituted counterparts and can often interact 
with the same biomolecules in living systems. In addition, 
the highly polarized C\u2013F bonds can induce dipole attractions 
that strengthen these interactions. In the case of fl uti casone, 
the steroid binds to a protein residing in cell nuclei called 
the glucocorticoid receptor, thereby interrupting the body\u2019s 
infl ammatory response.
An international study published in early 2004 found 
that fl uticasone was effective in reducing asthma-inducing 
infl ammation in babies from one to three years of age, while 
having no signifi cant effect on their growth. Nevertheless, 
the biochemistry of the glucocorticoid receptor is complex \u2014
it does much more than just mediate infl ammation \u2014 and the 
search continues for new synthetics whose interaction with 
the receptor will be more specifi c and will not interfere with 
the receptor\u2019s other, essential biological functions. Further-
more, synthetic corticosteroids are medically useful for a 
number of other conditions, including infl ammatory bowel 
disease and transplant rejection, for which oral administra-
tion is preferable. Thus, the design of variants that will 
prove to be safe for use in this way is an active area of 
current research as well.
SCH2F
O CCH2CH3O
B
Cortisol
% \u221e \u221e
~
%
%HO
O
H3C
H3C
Fluticasone propionate
%
%
%HO
F
O
OH3C
H3C
CH3\u2265
F
\u2265
OH
O O
OH
Applications and Hazards of Haloalkanes: \u201cGreener\u201d Alternatives
The properties of haloalkanes have made this class of compounds a rich source of com-
mercially useful substances. For example, fully halogenated liquid bromomethanes, such as 
CBrF3 and CBrClF2 (\u201cHalons\u201d), are extremely effective fi re retardants. Heat-induced cleav-
age of the weak C\u2013Br bond releases bromine atoms, which suppress combustion by inhibit-
ing the free-radical chain reactions occurring in fl ames (see Chapter 3, Problem 40). Like 
Freon refrigerants, however, bromoalkanes are ozone depleting (Section 3-9) and have been 
banned for all uses except fi re-suppression systems in aircraft engines. Phosphorus tribro-
mide, PBr3, a non-ozone-depleting liquid with a high weight percent of bromine, is a promis-
ing replacement. In 2006, a PBr3-based fi re-suppression cartridge system (under the trade 
name PhostrEx\u2122) was approved by both the U.S. Environmental Protection Agency (EPA) 
and the U.S. Federal Aviation Administration (FAA). It is now in commercial use in the 
Eclipse 500 jet aircraft.
The polarity of the carbon \u2013 halogen bond makes haloalkanes useful for applications such as 
dry cleaning of clothing and degreasing of mechanical and electronic components. Alternatives 
The Eclipse 500 jet over San 
Francisco.
3157T_ch06_215-250.indd Page 217 4/18/09 7:51:39 AM user-s1723157T_ch06_215-250.indd Page 217 4/18/09 7:51:39 AM user-s172 /Users/user-s172/Desktop/Tempwork/Don'tDelete_Job/FREE036:Vollhardt/FREE036-/Users/user-s172/Desktop/Tempwork/Don'tDelete_Job/FREE036:V
Admin
Highlight
Admin
Highlight
Admin
Highlight
Admin
Highlight
218 C h a p t e r 6 P r o p e r t i e s a n d R e a c t i o n s o f H a l o a l k a n e s
for these purposes include fl uorinated solvents such as 1,1,1,2,2,3,4,5,5,5-decafluoropentane 
(CF3CF2CHFCHFCF3), a DuPont\u2122 product that does not decompose to release ozone-
destroying halogen atoms because the C\u2013F bond is strong. This solvent is safe, stable, usable 
for a wide variety of industrial functions, and may be readily recovered and recycled. Prob-
lem 50 introduces yet another class of \u201cgreen\u201d solvents \u2014 ionic liquids \u2014 that are revolutioniz ing 
industrial chemistry.
In Summary The halogen orbitals become increasingly diffuse along the series F, Cl, Br, I. 
Hence, (1) the C\u2013X bond strength decreases; (2) the C \u2013 X bond becomes longer; (3) for 
the same R, the boiling points increase; (4) the polarizability of X becomes greater; and 
(5) London interactions increase. We shall see next that these interrelated effects also play 
an important role in the reactions of haloalkanes.
6-2 Nucleophilic Substitution
Haloalkanes contain an electrophilic carbon atom, which may react with nucleophiles \u2014
substances that contain an unshared electron pair. The nucleophile can be an anion, such 
as hydroxide (2:O
..
. . H), or a neutral species, such as ammonia (:NH3). In this process, which 
we call nucleophilic substitution, the reagent attacks the haloalkane and replaces the 
halide. A great many species are transformed in this way, particularly in solution. The reac-
tion occurs widely in nature and can be controlled effectively even on an industrial scale. 
Let us see how it works in detail.
Nucleophiles attack electrophilic centers
The nucleophilic substitution of a haloalkane is described by either of two general equations. 
Recall (Section 2-2) that the curved arrows denote electron-pair movement.
Nucleophilic Substitutions
\ufffd\ufffd\ufffd\ufffd
\u161\ufffdðð\ufffd
\ufffd\ufffd \ufffdR X \u161\ufffdððXNu
Nucleophile
Electrophile
O R NuO
R NuO
Leaving group
\u161\ufffdðð
\ufffd\ufffd \ufffdR X \u161\ufffdððXNu
Nucleophile
Electrophile
O [
 
]\ufffd
Leaving group
\ufffd\ufffd\ufffd\ufffd
Negative nucleophile
gives neutral product
Neutral nucleophile
gives positively
charged product
(as a salt)
In the fi rst example, a negatively charged nucleophile reacts with a haloalkane to yield 
a neutral substitution product. In the second example, an uncharged Nu produces a posi-
tively charged product, which, together with the counterion, constitutes a salt. In both cases, 
the group displaced is the halide ion, :X
..
. . :
2, which is called the leaving group. We shall 
see later that there are leaving groups other than :X
..
. . :
2. Specifi c examples of these two types 
of nucleophilic substitution are shown in Table 6-3. As will be the case in many equations 
and mechanisms that follow, nucleophiles, electrophiles, and leaving groups are shown here 
in red, blue, and green, respectively. The general term substrate (substratus, Latin, to have 
been subjected) is applied to the organic starting material \u2014 in this case, the haloalkane \u2014 that 
is the target of attack by a nucleophile.
Nucleophilic substitution exhibits considerable diversity
Nucleophilic substitution changes the functional group in a molecule. A great many nucleo-
philes are available to participate in this process; therefore, a wide variety of new molecules 
are accessible through substitution. Note that Table 6-3 depicts only primary and secondary 
halides. In Chapter 7 we shall see that tertiary substrates behave differently toward these 
REACTION
Color code
Nucleophiles: red
Electrophiles: blue
Leaving groups: green
Inhalation anesthetics such as 
 halothane, CF3CHBrCl, derive their 
biological activity from the polar 
nature of their C\u2013X bonds.
3157T_ch06_215-250.indd Page 218 4/18/09 7:51:41 AM user-s1723157T_ch06_215-250.indd Page 218 4/18/09 7:51:41 AM user-s172 /Users/user-s172/Desktop/Tempwork/Don'tDelete_Job/FREE036:Vollhardt/FREE036-/Users/user-s172/Desktop/Tempwork/Don'tDelete_Job/FREE036:V
Admin
Rectangle
Admin
Highlight
Admin
Highlight
Admin
Highlight
Admin
Highlight
Admin
Highlight
Admin
Highlight
Admin
Highlight
Admin
Highlight
Admin
Highlight
Admin
Highlight
 C h a p t e r 6 219
nucleophiles and that secondary halides may sometimes give other products as well. Methyl 
and primary haloalkanes give the \u201ccleanest\u201d substitutions, relatively free of side products.
Let us inspect these transformations in greater detail. In reaction 1, a hydroxide ion, 
typically derived from sodium or potassium hydroxide, displaces chloride from chloromethane 
to give methanol.