Grátis
11 pág.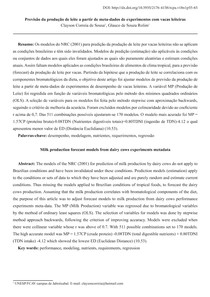 exigências de nutrientes para vacas leiteiras
Denunciar
---
Pré-visualização
|

Página 4 de 4
FREITAS, J.A.; LANA, R.P.; MAGALHÃES, 
A.R.L.; SOUZA, J.C. Prediction and validation of the 
performance of dairy cows in Brazilian conditions. 
Latin American Archives of Animal Production, v.14, 
n.4, p.128-134. 2006.
HUHTANEN, P.; HRISTOV, A.N. A meta-analysis 
of the effects of dietary protein concentration and 
degradability on milk protein yield and milk N 
efficiency in dairy cows. Journal of Dairy Science, 
v.92, n.7, p.3222-3232, 2009.
Rev. Cient. Prod. Anim., v.18, n.1, p.55-65, 2016
64
LIBERTI, L.; LAVOR, C.; MACULAN, N.; 
MUCHERINO, A. Euclidean Distance Geometry 
and Applications. Society for industrial applications 
Review. v.56, n.1, p. 3-69, 2014.
LOVATTO, P.A., LEHNEN, C.R.; ANDREATTA, I. 
Meta analysis in scientific research: a methodological 
approach. Brazilian Journal of Animal Science, v.36S, 
p. 285-294, 2007.
MAAT, S.M. Exploring Engineering Technology 
Students' Perception in Learning Statistics Using 
Minitab. Mediterranean Journal of Social Sciences, 
v.6, n.3, p.823-828, 2015.
MACEDO, H.F.; GUIMARÃES, A.L.S.; CARDOSO, 
V.S. LIMA, J.C.C.O. 2014. Estimating country risk: 
A default probability model based on ratings. BNDES 
Journal, v.41, n.6, p.415-434. 
MAGALHÃES, A.L.R.; CAMPOS, J.M.S.; FILHO, 
S.C.V.; TORRES, R.A.; NETO, J.M.; ASSIS, A.J. 
Sugar Cane as a Substitute for Corn Silage in Diets 
for Milking Cows. Performance and Economical 
Viability. Brazilian Journal of Animal Science, v.33, 
n.5, p.1292-1302, 2004.
MATSUEDA M.; WEISHEIMER A.; PALMERT.N. 
Calibrating Climate Change Time-Slice Projections 
with Estimates of Seasonal Forecast Reliability. 
Journal of Climate, v.29, n.5, 2016. Disponível em: 
http://dx.doi.org/10.1175/JCLI-D-15-0087.1. Acesso 
em 02 nov. 2016.
MENDONÇA, S.S.; CAMPOS, J.M.S.; FILHO, 
S.C.V.; VALADARES, R.F.D.; SOARES, C.A.; 
LANA, R.P.; QUEIROZ, A.C.; ASSIS, A.J.; 
PEREIRA, M.L.A. 2004. Intake, Apparent 
Digestibility, Milk Production and Composition and 
Ruminal Variables of Dairy Cows Fed Sugar Cane 
Based Diets. Brazilian Journal of animal Science, 
v.33, n.2, p.481-492, 2004.
MOREIRA, J.N., LIRA, M.A.; SANTOS, M.V.F.; 
FERREIRA, M.A.; MELO, A.A.S. Substitution of 
soybean to urea in the supplementation of milk cows 
in the sertao of Pernambuco. Caatinga, v.20, n.3, 
p.30-37, 2007.
MORETO, V.B; ROLIM, G.S. Estimation of annual 
yield and quality of "Valência" Orange related to 
monthly water deficiencies. African Journal of 
agricultural research, v.10, n.6, p.543-553, 2015. 
MURPHY, M. D.; O'MAHONY, M. J.; SHALLOO, 
L.; FRENCH, P.; Upton, J. Comparison of modeling 
techniques for milk-production forecasting. 2014. 
Journal of Dairy Science. v.97, n.6, p.3352-3363, 
2014. 
NRC-National Research Council. Nutrient 
requirements of dairy cattle. Washington DC: 
Subcommittee on dairy cattle nutrition, committee on 
animal nutrition, 2001. 401p.
O'NEILL, B.F.; LEWIS, E.; O'DONOVAN, M.; 
SHALLOO, L.; GALVIN, N.; MULLIGAN, F.J; 
BOLAND, T.M; DELAGARDE, R. Predicting grass 
dry matter intake, milk yield and milk fat and protein 
yield of spring calving grazing dairy cows during the 
grazing season. Animal, v.7, n.8. p.1379–1389, 2013.
OLIVEIRA, A.S., J.M.S. CAMPOS, S.C.V. 
FILHO, A.J. ASSIS, R.M.A. TEIXEIRA, R.F.D. 
VALADARES, D.S. PINA, G.S. OLIVEIRA. 
Replacing corn with coffee hulls or soy hulls in dairy 
cows diets: intake, nutrient digestibility, and milk 
production and composition. Brazilian Journal of 
animal Science. v.36, n.4, p. 1172 – 1182, 2007.
OLIVEIRA, A.S.; DETMANN, E; CAMPOS, JMS; 
PINA, D.S; SOUZA, SM; COSTA, MG. Meta-
analysis of the impact of neutral detergent fiber on 
intake, digestibility and performance of lactating 
dairy cows. Brazilian Journal of Animal Science, 
v.40, n.7, p.1587-1595, 2011. 
OLIVEIRA, I.S. Forage evaluation in the diet of dairy 
cows in the dry season: intake, digestibility, milk 
production and simulation CNCPS. Cuiabá. 2007. 
82p. Dissertation (Master). Mato Grosso Federal 
University, Cuiabá.
Rev. Cient. Prod. Anim., v.18, n.1, p.55-65, 2016
65
PIMENTEL, P.G., MOURA, A.A.A.N.; NEIVA, 
J.N.M.; ARAÚJO, A.A.; TAIR, R.F.L. Dry mater intake, 
milk yield, and heat stress indicators of dairy cows fed 
diets with cashew nut. Brazilian Journal of Veterinary 
and Animal Sciences, v.59, n.6, p.152 -1530, 2007. 
PIRES, A.V. I.SUSIN, J. M.C. SIMAS, R.C.O. 
JÚNIOR, J.J.R. FERNANDES, R.C. ARAUJO, C.Q. 
MENDES. Corn silage replacement by sugarcane 
and cotton seed on the performance of dairy cows. 
Brazilian Animal Science, v.11, n.2, p. 251-257. 2010.
RABIEE, A.R.; BREINHILD, K. SCOTT, W.; 
GOLDER, H.M.; BLOCK, E.; LEAN, I.J. Effect 
of fat additions to diets of dairy cattle on milk 
production and components: A meta-analysis and 
meta-regression. Journal of Dairy Science, v.95, n.6, 
p. 3225–3247, 2012.
RIAZ, M.Q; CLAUSS, M.; JAYANEGARA, A. 
Voluntary feed intake and digestibility of four 
domestic ruminant species as influenced by dietary 
constituents: A meta-analysis. Livestock Science, 
v.162, n.4, p.76–85, 2014. 
SANTOS, D,G.; ZIELGMANN, F.A. Volatility 
Estimation and Forecasting During Crisis Periods: 
A Study Comparing GARCH Models with 
Semiparametric Additive Models. Brazilian Review 
of Finance, v.10, n.1, p.49–70, 2012. 
SAUVANT, D., P. SCHMIDELY, J.J. DAUDIN. 
Meta-analyses of experimental data in animal 
nutrition. Animal, v.2, n.8, p. 1203-1214, 2008.
SILVA, J.F.F. Water use modeling and forecast using 
a optmization tool for parameters estimation. Civil 
Engineering Journal, v.33, p.203-214. 2008.
SOUSA, C.C. Partial budget analysis for sunflower 
meal and cake in dairy cows feeding., 2007. 39p. 
Dissertation (Master). Paulista State University. 
Agrarian and veterinary sciences faculty, Jaboticabal.
SOUSA, CC. Model to predict the dry matter intake 
and the milk yield by cows. Animal Production 
Scientific Journal, v.11, n.2, p. 94-102, 2009.
SOUSA, D.P.; CAMPOS, J.M.S.; FILHO, S.C.V.; 
LANA, R.P.; SEDIYAMA, C.A.Z.; NETO, J.M. 
Feeding behavior, feed intake and digestibility, milk 
composition and production of cows fed maize silage 
or sugarcane with whole cottonseed. Brazilian Journal 
of Animal Science, v.38, n.10, p.2053-2062. 2009.
SOUZA, M.C. Meta-analysis of feed intake of dairy 
cows on tropical condiction. 2013. 55p. Dissertation 
(Master). Universidade Federal de Mato Grosso. 
Sinop.
SOUZA, V.L. Parameterization and evaluation of 
models to estimate the requirements and performance 
of dairy cattle for use in Brazil. Thesis (PhD). 2015. 
79p. Luís de Queiroz Agriculture Higher School, São 
Paulo State University. Piracicaba.
TAVAKKOLI, A.; HEMMASI, AH.; TALAEIPOUR, 
M; BAZYAR, B.; TAJDINI, 2015. A. Forecasting of 
particleboard consumption in Iran using univariate 
times series models. Bio Resources. v.10, n.2, p. 
2032-2043, 2015. 
TEIXEIRA Jr, D.J. Hydrolysis of sugar cane with 
virgin lime and hydrated lime as feeding of milk 
cows. 2008. 33p. Dissertation (Master). Paulista State 
University. Agrarian and veterinary sciences faculty, 
Jaboticabal.
VILELA, M.S.; FERREIRA, M.A.; VERAS, A.S.C.; 
SANTOS, M.V.F.; FARIAS, I.; MELO, A.A.S.; 
RAMALHO, R.P.; ARAÚJO, P.R.B. Evaluation 
of Different Supplements for Lactating Crossbred 
Cows Fed Sugarcane: Performance and Digestibility. 
Brazilian Journal of Animal Science, v.32, n.3, p.768-
777, 2003.
Crie agora seu perfil grátis para visualizar sem restrições.