Grátis
213 pág.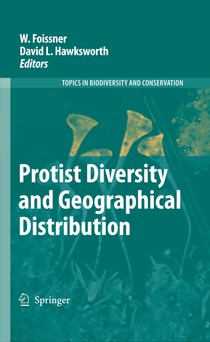 Foissner_Protist Diversity and Geographical Distribution_9048128005
Denunciar
---
Pré-visualização
|

Página 48 de 50
sequence evolution compared to nuclear
sequences and cryptic speciation.
The consistently high genetic diversity underlying many ciliate morphospecies suggests
that morphological and molecular evolution may be decoupled in many ciliate species.
Under such a scenario, morphospecies may often represent multiple genetically-isolated
populations. At the same time, different morphotypes of some ciliates such as tintinnids
have been shown to share identical sequences at the ITS locus (Snoeyenbos-West et al.
2002), and ecotypic variation in morphology has been demonstrated experimentally in this
clade (Laval-Peuto 1981). Elucidation of the relative rates of morphological and molecular
evolution in ciliates requires further analyses of multiple markers from broadly sampled
morphospecies.
Fig. 1 Halteria grandinella is a very common, cosmopolitan ciliate. However, populations from different
sites differ significantly in the ITS nucleotides, which even include a related species, Meseres corlissi.
Morphologically, most populations are very similar. The figure shows a maximum-likelihood analysis of the
ITS sequences. Bootstrap values are shown at nodes: upper values are maximum-likelihood with gaps
removed (MLno), and maximum likelihood with gaps included (MLgap); lower values are maximum
parsimony with gaps excluded (MPno), and maximum parsimony gaps treated as 5th character (MPgap5th).
From Katz et al. (2005)
116 W. Foissner et al. (eds)
Ecological studies. Clonal cultures of ciliates usually reveal pronounced differences in
many ecophysiological parameters, such as cell volume, growth rate, and production (for a
review, see Weisse 2004). A numerical model suggests that differences in growth rates by
10% may significantly alter the clonal composition in the course of a ciliate peak (Weisse
and Rammer 2006). Thus, Weisse and Rammer (2006) agree with Nanney et al. (1998) that
the functional diversity of ciliates is considerably larger than it is obvious at the mor-
phospecies level; further, they emphasize that the morphospecies concept grossly
underestimates the number of species, the number of niches, and the complexity of
ecosystems.
Unfortunately, the morphospecies concept is the only one which works in practice.
Certainly, the biological species concept is preferable, but it is a matter of fact that more
than 90% of the described species were never tested for mating, both in protists and
animals; the same applies to ecological populations and clones. Thus, new ideas are needed
to reconcile ecological, molecular and morphological diversity.
Geographic distribution
Flagship species
Ciliates have complex morphologies which can be clearly revealed by several methods,
especially silver impregnation and scanning electron microscopy (Figs. 2–4). Thus, it is
not surprising that we have sound evidences for a restricted distribution of many species.
Here, for the first time, we provide a list of supposed endemics (Table 3), containing
so-called flagship species which are, according to Tyler (1996) and Foissner (2006), the
''ultimate proof'' for protist endemism. Flagships are so showy, or so novel, making it
unlikely that they would be overlooked if indeed they were widely distributed. We
emphasize that the species listed in Table 3 are just a selection; they could be easily
doubled! However, some doubt remains because (i) flagships could be too rare to be met in
even detailed studies and (ii) reliable distribution data are rare, even for conspicuous
species. For instance, Puytoraciella dibryophrys, an about 250 lm long colpodid described
in 1979 from a temporary pond in West Africa (Foissner 1993a), has been recently found in
a similar habitat of North America (Bill Bourland, personal communication). Further, we
usually cannot decide whether such species are local, regional or continental endemics
because large regions of the world never have been carefully investigated for ciliates
(Cotteril et al., this issue). In the sense of Popper (1962), this list represents a testable
hypothesis, i.e., the hypothesis of restricted distribution of certain ciliate species must be
refused when a considerable number of them is found in all or most biogeographic regions.
Most of the species listed in Table 3 are likely historical (split of Pangaea) or conti-
nental endemics, for instance, Neobursaridium gigas and Frontonia vesiculosa. Others are
regional or local endemics, for instance, the colepids of the ancient lakes (Lake Baikal,
Lake Biwa, Lake Tanganyika). However, regional and local endemics are found not only at
these famous places but also in more ordinary biotopes, as reviewed by Foissner (2007).
Very recently, Stoeck et al. (2007) discovered such a species in a remote alpine lake in
Germany. This ciliate is highly similar to the likely cosmopolitan Urocentrum turbo, both
morphologically and in various molecular characteristics, but lost the ability to produce
functional trichocysts. A similar case has been reported by Esteban et al. (2000), who
discovered a very distinct Lembadion in a remote lake of Tasmania. Another example is
the study by Kreutz and Foissner (2006) who found 250 ciliate species, of which 40 were
Protist Diversity and Geographical Distribution 117
likely undescribed, in postglacial moorland ponds. Obviously, a considerable diversity
accumulated over 15,000 years, emphasizing the great distribution capacity of micro-
organisms. On the other hand, some common species were lacking, for instance, the ciliate
Colpidium colpoda, the euglenid Phacus pleuronectes, and rotifers of the genera Proales
and Floscularia.
While a mass of undescribed species is comprehensible in amoebae, heterotrophic
flagellates and ciliates, which are poorly researched, this is surprising in well-known
groups, such as euglenids and chrysophytes. Thus, the authors concluded that some of the
undescribed species might be regional or local endemics.
Figs. 2–4 Two undescribed ciliate flagship species in the scanning electron microscope. 2, 3: A new,
tetrahymenid ciliate from tank bromeliads. This up to 800 lm long ciliate has a functionless, minute primary
oral apparatus (arrows) and a large secondary mouth (OA) used to capture large prey, e.g., rotifers. Scale
bars 100 lm and 5 lm. From Foissner et al. (2003). 4: A new colepid flagship from lake Biwa, a 4 million
years old freshwater lake in Japan. This ciliate is about 80 lm long in vivo and armed with calcified plates.
It is related to the widely distributed Coleps hirtus, but lacks the posterior spines and is genetically different
by 7%. Scale bar 30 lm. From Foissner, Kusuoka and Shimano (submitted)
118 W. Foissner et al. (eds)
T
a
b
le
3
C
il
ia
te
fl
ag
sh
ip
sp
ec
ie
s
w
it
h
v
er
y
li
k
el
y
re
st
ri
ct
ed
g
eo
g
ra
p
h
ic
d
is
tr
ib
u
ti
o
n
S
p
ec
ie
s
H
ab
it
at
s
G
eo
g
ra
p
h
ic
d
is
tr
ib
u
ti
o
n
a
R
ef
er
en
ce
sb
A
p
o
fr
on
to
n
ia
d
o
h
rn
i
M
u
d
fr
o
m
co
as
tl
in
e
p
u
d
d
le
s
E
u
ro
p
e,
It
al
y
F
o
is
sn
er
(2
0
0
7
)
A
p
o
fr
on
to
n
ia
la
m
et
sc
h
w
a
n
d
tn
er
i
M
u
d
fr
o
m
co
as
tl
in
e
p
u
d
d
le
s
S
o
u
th
A
m
er
ic
a,
V
en
ez
u
el
a
F
o
is
sn
er
(2
0
0
7
)
A
p
o
fr
on
to
n
ia
o
b
tu
sa
F
re
sh
w
at
er
p
o
n
d
E
u
ro
p
e,
G
er
m
an
y
F
o
is
sn
er
(2
0
0
7
)
B
a
ik
a
lo
co
le
p
s
q
u
a
d
ra
tu
s
S
an
d
o
f
o
p
en
li
tt
o
ra
l
R
u
ss
ia
,
L
ak
e
B
ai
k
al
O
b
o
lk
in
a
(1
9
9
5
)
B
re
ss
la
u
id
es
a
u
st
ra
li
s
F
o
re
st
so
il
A
u
st
ra
li
a
F
o
is
sn
er
(1
9
9
3
a)
B
re
ss
la
u
id
es
d
is
co
id
eu
s
S
o
il
an
d
m
o
ss
E
u
ro
p
e,
Ja
p
an
,
C
en
tr
al
A
m
er
ic
a
F
o
is
sn
er
(2
0
0
6
)
B
ro
m
el
io
p
h
ry
a
b
ra
si
li
en
si
s
B
ro
m
el
ia
n
ta
n
k
s
S
o
u
th
A
m
er
ic
a,
B
ra
zi
l
F
o
is
sn
er
(2
0
0
3
)
B
ry
o
p
h
yl
lu
m
lo
n
g
is
et
u
m
S
o
il
T
ro
p
ic
al
A
Crie agora seu perfil grátis para visualizar sem restrições.