Grátis
13 pág.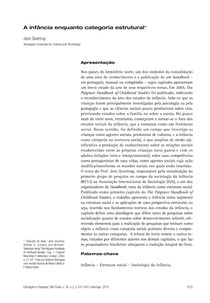 A INFÂNCIA ENQUANTO CATEGORIA ESTRUTURAL
Denunciar
---
Pré-visualização
|

Página 7 de 7
Quelle & Meyer, 1973.
GILLIS, J. R. Youth and history: tradition and change in European Age Relations – 1770-present. New York/London: Academic 
Press, 1974.
HARDMAN, C. (1973). Can there be an anthropology of children? Childhood, v. 8, n. 4, p. 501-17, 2001.
HONIG, M.-S. Entwurf einer Theorie der Kindheit. Frankfurt: Suhrkamp, 1999.
643Educação e Pesquisa, São Paulo, v. 36, n.2, p. 631-643, maio/ago. 2010
HONIG, M.-S.; LEU, H. R.; NISSEN, U. Kindheit als Sozialisationsphase und als kulturelles Muster. In: _____. Kinder und Kindheit: 
soziokulturelle Muster – sozialisationstheoretische Perspektiven. Weinheim/München: Juventa, 1996. p. 9-29.
JAMES, A. Changing childhood in the UK: reconstructing discourses of "risk" and "protection". In: _____. European childhoods: 
cultures, politics and childhoods in Europe. Basingstoke: Palgrave Macmillan, 2008. p. 105-128.
JAMES, A.; JENKS, C.; PROUT, A. Theorizing childhood. Cambridge: Polity Press, 1998.
KAUFMANN, F.-X. Schrumpfende Gesellschaft: Vom Bevölkerungsrückgang und seine Folgen. Frankfurt: Suhrkamp, 2005.
MAYALL, B. Children, health and the social order. Buckingham: Open University Press, 1996.
MEAD, M. Culture and commitment: a study of the Generation Gap. Herts: Panter Books, 1972.
MEILLASSOUX, C. Kapitalistische Produktion von "Über¬bevölkerung" in Afrika. Das Argument 204, v. 36, n. 2, p. 219-232, 1994.
PARSONS, T. The social system. London: Free Press, 1964.
PROUT, A.; JAMES, A. A new paradigm for the sociology of childhood? Provenance, promise and problems. In: _____. Constructing 
and reconstructing childhood. London: Falmer Press, 1990. p. 7-34.
QVORTRUP, J. Placing children in the division of labour. In: CLOSE, P.; COLLINS, R. (Eds.). Family and economy in modern society. 
Basingstoke/London: Macmillan, 1985. p. 129-145.
______. Nine theses about "childhood as a social phenomenon". In: _____. Childhood as a social phenomenon: lessons from 
an international project. Vienna: European Centre, 1993. p. 11-18. (Eurosocial Report 47.) 
______. From useful to useful: the historical continuity of children's constructive participation. Sociological Studies of Children, 
v. 7, p. 49-76, 1995.
SGRITTA, G. B. Inconsistencies: childhood on the economic and political agenda. In: MOURITSEN, F.; QVORTRUP, J. (Eds.). Childhood 
and children's culture. Odense: Odense University Press, 2002. p. 209-260.
THORNE, B. Re-visioning women and social change: where are the children? Gender and Society, v. 1, n. 1, p. 85-109, 1987.
ZEIHER, H. Kinder in der Gesellschaft und Kindheit in der Soziologie. Zeitschrift für Sozialisationssforschung und 
Erziehungssoziologie, v. 16, n. 1, p. 26-46, 1996.
Recebido em 18.05.2010
Jens Qvortrup é professor do Departamento de Sociologia e Ciência Política - Norwegian University for Science and 
Technology (NTNU), Trondheim, Noruega.
Crie agora seu perfil grátis para visualizar sem restrições.