Grátis
1 pág.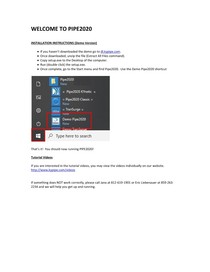 Installation Directions Demo
Denunciar
---
Pré-visualização
|

Página 1 de 1
WELCOME TO PIPE2020 
 
 
INSTALLATION INSTRUCTIONS (Demo Version) 
 
 If you haven't downloaded the demo go to dl.kypipe.com. 
 Once downloaded, unzip the file (Extract All Files command). 
 Copy setup.exe to the Desktop of the computer. 
 Run (double click) the setup.exe. 
 Once complete, go to the Start menu and find Pipe2020. Use the Demo Pipe2020 shortcut 
 
 
 
That's it! You should now running PIPE2020! 
 
Tutorial Videos 
 
If you are interested in the tutorial videos, you may view the videos individually on our website. 
http://www.kypipe.com/videos 
 
 
If something does NOT work correctly, please call Jana at 812-619-1901 or Eric Liebenauer at 859-263-
2234 and we will help you get up and running. 
 
http://www.kypipe.com/
http://www.kypipe.com/videos
Crie agora seu perfil grátis para visualizar sem restrições.