Grátis
213 pág.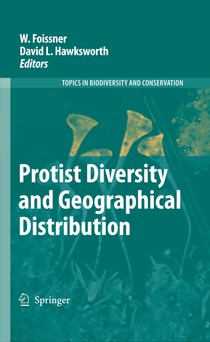 Foissner_Protist Diversity and Geographical Distribution_9048128005
Denunciar
---
Pré-visualização
|

Página 1 de 50
Protist Diversity and Geographical
Distribution
TOPICS IN BIODIVERSITY AND CONSERVATION
Volume 8
http://www.springer.com/series/7488
Protist Diversity and Geographical
Distribution
Edited by
W. Foissner
and
David L. Hawksworth
Reprinted from Biodiversity and Conservation, volume 17:2 (2008)
123
Editors
Prof. Dr. W. Foissner
Universität Salzburg
Naturwissenschaftliche
Fakultät
Inst. Zoologie
Hellbrunnerstr. 34
5020 Salzburg
Austria
Dr. David L. Hawksworth
Universidad Complutense
Fac. Farmacia
Dept. Biologia Vegetal II
Plaza de Ramony Cajal,
28040 Madrid
Ciudad Universitaria
Spain
myconova@terra.es
ISBN: 978-90-481-2800-6 e-ISBN: 978-90-481-2801-3
DOI: 10.1007/978-90-481-2801-3
Library of Congress Control Number: 2009927286
© Springer Science+Business Media B.V. 2009
No part of this work may be reproduced, stored in a retrieval system, or transmitted in any form or by
any means, electronic, mechanical, photocopying, microfilming, recording or otherwise, without 
written permission from the Publisher, with the exception of any material supplied specifically for the
purpose of being entered and executed on a computer system, for exclusive use by the purchaser of the
work.
Cover photo: Various ciliates (Stentor polymorphus, Frontonia leucas etc.) attached to a mud particle.
Printed on acid-free paper
springer.com
Contents
Protist Diversity and Geographical 
Distribution
WILHELM FOISSNER / Protist diversity and distribution: some basic 
considerations
THOMAS WEISSE / Distribution and diversity of aquatic protists: an 
evolutionary and ecological perspective
SLAVA EPSTEIN and PURIFICACIÓN LÓPEZ-GARCÍA / "Missing" 
protists: a molecular prospective
JAN-PETER FRAHM / Diversity, dispersal and biogeography of 
bryophytes (mosses)
STEVEN L. STEPHENSON, MARTIN SCHNITTLER and YURI 
K. NOVOZHILOV / Myxomycete diversity and distribution from the 
fossil record to the present
HENDRIK SEGERS and WILLEM H. DE SMET / Diversity and endemism in
Rotifera: a review, and Keratella Bory de St Vincent
JAN PAWLOWSKI and MARIA HOLZMANN / Diversity and geographic
distribution of benthic foraminifera: a molecular perspective
HUMPHREY GRAHAM SMITH, ANATOLY BOBROV and ENRIQUE
LARA / Diversity and biogeography of testate amoebae
WILHELM FOISSNER, ANNE CHAO and LAURA A. KATZ / Diversity and
geographic distribution of ciliates (Protista: Ciliophora) 
ELLEN M. SIMON, DAVID L. NANNEY and F. PAUL DOERDER / The
"Tetrahymena pyriformis" complex of cryptic species
PETER F. M. COESEL and LOTHAR KRIENITZ / Diversity and geographic
distribution of desmids and other coccoid green algae
PIETER VANORMELINGEN, ELIE VERLEYEN and WIM VYVERMAN /
The diversity and distribution of diatoms: from cosmopolitanism to
narrow endemism
F.J.R. TAYLOR, MONA HOPPENRATH and JUAN F. SALDARRIAGA /
Dinoflagellate diversity and distribution
JØRGEN KRISTIANSEN / Dispersal and biogeography of silica-scaled 
chrysophytes
F.P.D. COTTERILL, KHALED AL-RASHEID and WILHELM FOISSNER /
Conservation of protists: is it needed at all? 
1–8
9–25
27–42
43–50
51–67
69–82
83–94
95–109
111–129
131–146
147–158
159–171
173–184
185–192
193–209
v
-1Foreword
Conservation and biodiversity of protists
The conservation of biodiversity is not just an issue of plants and vertebrates. It is
the scarcely visible invertebrates and myriads of other microscopic organisms that
are crucial to the maintenance of ecological processes on which all larger
organisms and the composition of the atmosphere ultimately depend. Biodiversity
and Conservation endeavours to take an holistic view of biodiversity, and when
the opportunity arises to issue collections of papers dealing with too-often
neglected groups of organisms. The protists, essentially eukaryotes that cannot be
classified in the kingdoms of animals, fungi, or plants, include some of the least-
known groups of organisms on earth. They are generally treated as a separate
kingdom, commonly named Protista (or Protoctista) in textbooks, but in reality
they are a mixture of organisms with disparate affinities.
Some authors have hypothesized that the numbers of protists are not especially
large, and that many have extraordinarily wide distributions. However, the pic-
ture that unfolds from the latest studies discussed in this issue is different. There
are many species with wide ranges, and proportionately more cosmopolitan
species than in macroorganism groups, as a result of their long evolutionary
histories, but there are also definite patterns and geographical restrictions to be
found. Further, some protists are linked to host organisms as mutualists or
parasites and necessarily confined to the distributions of their hosts. It is now also
becoming clear that there is a great deal of cryptic speciation and clonal selection
that has not been appreciated until the advent of molecular phylogenetic
approaches. The traditional use of morphospecies concepts badly underestimates
protistan diversity – by two or three times in the case of foraminifera and ciliates.
Molecular work in most protistan groups is very much in its infancy, but it seems
likely that there are more than 300 000 species of protists on Earth. This
collection of papers makes clear that protistan groups are not a special case of
limited diversity, but are very imperfectly known and merit more attention than is
generally accorded to them in assessments of biodiversity.
In dealing with primarily microscopic groups of organisms, conservation is a
difficult task and must be two-pronged and involve both the in situ conservation
of different habitat types as single-species plans are unlikely ever to be practical,
and ex situ maintenance in genetic resource collections. However, focusing
attention on ''flagship species'' that can serve as surrogates has the potential both
to generate more basic knowledge and to act as a bioindicator of the situation in
others.
vii
The 15 papers presented here consider a range of protistan groups and fun-
damental issues, while others focus on particular types of protists, notably slime
moulds, foraminifera, ciliates, desmids, diatoms, dinoflagellates, chrysophytes,
and testate amoebae; there is also one addressing dispersal and biogeography in
bryophytes where there are parallel issues of wide distributional ranges. Protistan
fungal groups other than slime moulds are not covered as the January 2007 issue
of Biodiversity and Conservation (16(1): 1–111) included eight papers devoted to
the estimation of fungal diversity. The contributions have been selected and
edited by Wilhelm Foissner, a long-standing member of the Editorial Board of
Biodiversity and Conservation. I am very pleased that he rose to the challenge of
assembling such a thought-provoking series of papers, which should serve to
highten awareness of issues in protistan diversity in biodiversity science and
conservation.
DAVID L. HAWKSWORTH
Editor-in-Chief, Biodiversity and Conservation
Universidad Complutense de Madrid, Madrid; and the Natural History Museum, London
5 January 2008
viii W. Foissner et al. (eds)
Protist diversity and distribution: some basic 
considerations
Wilhelm Foissner 
Originally published in the journal Biodiversity and Conservation, Volume 17, No 2, 235–242.
DOI: 10.1007/s10531-007-9248-5 © Springer Science+Business Media B.V. 2007
Abstract This essay discusses protist species number and geographic distribution, both
heavily inXuenced by undersampling and human introductions. The features of the ubiquity
model and the moderate endemicity model are compared. I recognize Wve main Xaws of the
ubiquity model, viz., the ignorance of the extraordinary possibilities protists have to speciate due
to their short generation time and the likelihood that many persisted over geological time scales;
that all protist species have high abundances; that their small size is a main reason for global
distribution; the ignorance of human introductions; and the rejection of literature evidence on
the occurrence of Xagship species with
Crie agora seu perfil grátis para visualizar sem restrições.