Grátis
213 pág.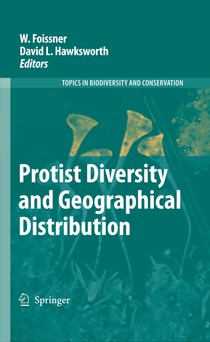 Foissner_Protist Diversity and Geographical Distribution_9048128005
Denunciar
---
Pré-visualização
|

Página 37 de 50
m
ar
sh
es
T
1
0
8
8
N
o
rt
h
er
n
P
ac
ifi
c
co
as
t,
U
S
A
,
C
A
U
S
A
:
W
as
h
in
g
to
n
S
ta
te
,
G
ra
y
s
H
ar
b
o
u
r;
C
an
ad
a:
V
an
co
u
v
er
M
ic
ro
ti
d
al
m
ar
sh
es
T
1
1
1
1
C
ar
ib
b
ea
n
S
ea
C
u
b
a:
P
la
y
a
B
al
ie´
n
M
ic
ro
ti
d
al
m
ar
sh
es
T
1
2
2
2
S
o
u
th
er
n
P
ac
ifi
c
N
ew
C
al
ed
o
n
ia
:
T
ie
ti
B
ea
ch
B
ra
ck
is
h
w
at
er
es
tu
ar
y
T
1
3
1
1
S
o
u
th
er
n
P
ac
ifi
c
N
ew
C
al
ed
o
n
ia
:
N
o
u
m
ea
T
ji
b
ao
u
M
an
g
ro
v
es
Protist Diversity and Geographical Distribution 89
Our long-term survey of monothalamous foraminifera has revealed some unexpected
results. Monothalamous lineages play a key role in the early evolution of foraminifera
(Pawlowski et al. 2003). Their genetic diversity at different taxonomic levels by far
exceeds what could be expected from morphological studies. Molecular data from material
collected in Antarctica revealed an extraordinarily rich assemblage of monothalamous
species. Allogromiids, athalamids and astrorhizids comprise an assemblage of more than a
dozen lineages branching together at the base of the foraminiferal tree. Molecular data also
show high species diversity in allogromiids (Pawlowski et al. 2002a, b, 2005). Because of
the paucity of morphological characters, species distinction is particularly difficult and the
majority of allogromiid genera are represented by single species descriptions (Nyholm
1974). Molecular analyses also confirmed the presence of allogromiids in freshwater and
terrestrial environments (Meisterfeld et al. 2001; Holzmann and Pawlowski 2002; Holz-
mann et al. 2003). Very few of the genetically distinctive monothalamous taxa have been
characterized morphologically and formally described or revised (Bowser et al. 2002;
Gooday et al. 2004; Gooday and Pawlowski 2004; Sabbatini et al. 2004). Furthermore, a
few lineages are only identified from environmental DNA extractions (Holzmann et al.
2003; Habura et al. 2004).
One of our research projects concerning monothalamous foraminifera focuses on the
geographic distribution of this group, and in particular on the genetic comparison of similar
morphotypes found in polar and subpolar waters of the northern and southern hemisphere.
Some results of this yet unpublished study are reported here. We have compared SSU
rDNA sequences of species belonging to four genera (Micrometula, Psammophaga,
Gloiogullmia and Hipocrepinella) from western Svalbard (Arctic) and McMurdo Sound
(Antarctic), including their representatives from the deep southern Ocean (Weddell Sea)
and Arctic Ocean (Fram Strait) as well as from northern European fjords (Sweden,
Scotland) wherever it was possible.
Phylogenetic analysis of our data show that within the four examined morphotypes,
Arctic and Antarctic species form clearly distinctive sister clades (Fig. 3). The clades are
separated by relatively large genetic distances ([5%), except in Psammophaga (\1%), due
to either relatively rapid radiation or to an unusual slowdown of evolutionary rates in this
genus. The isolates from Svalbard are closely related to those from other northern Euro-
pean settings. The Weddell deep-sea isolates of Gloiogullmia and Micrometula form sister
groups to coastal Antarctic isolates and the Arctic deep-sea isolate of Micrometula,
branches as sister group to the respective Antarctic clade. Interestingly, the specimens from
Dunstaffnage (Scotland) either form a sister group to other northern hemisphere isolates
(Psammophaga, Gloiogullmia) or to both polar clades (Micrometula).
Our data not only show the genetic differentiation between northern and southern
populations of the examined taxa but also reveal several genetic lineages that consid-
erably differ from each other. At present, three of the four examined genera are
represented by only one described species (Micrometula hyalostriata, Gloiogullmia
eurystoma, Psammophaga simplora). Each of these species is represented in our anal-
yses by sequences from the area close to the type locality (Skagerrak for
M. hyalostriata; Oslofjord for G. eurystoma; and Sappelo, Georgia, US for P. simplora).
The fourth species, Hippocrepinella hirudinea, has been described from the Southern
Ocean, and we consider our McMurdo sequences as closely related to the original type.
Additionally, 12 genetically distinctive phylotypes have been revealed in our study.
Remarkably, each of these types has a restricted geographic distribution. Given their
apparent isolation and genetic differentiation, we may consider them as new, yet
undescribed species.
90 W. Foissner et al. (eds)
Is foraminiferan diversity different?
It has been proposed that the diversity of free-living protists is different from the diversity of
larger organisms because small-sized organisms can be dispersed everywhere, and therefore
the rates of allopatric speciation is low (Finlay et al. 2004). The authors assumed that small-
sized organisms are generally ubiquitous and that the same species can be found wherever
its preferred habitat is present (Finlay 1998). These arguments were based mostly on the
study of ciliates morphospecies and have only recently been confirmed by molecular data
for different ecotypes within the ciliate species Cyclidium glaucoma (Finlay et al. 2006).
Fig. 3 Phylogenetic relations between Arctic and Antarctic monothalamous foraminifera. Sequence names
indicate the locality and isolate number. Polar isolates are in bold. Species names are given to isolates from
the area close to the locality of original description. The tree was obtained by the neighbour joining method
with pairwise distances and 1000 bootstrap replicates
Protist Diversity and Geographical Distribution 91
Other results, however, point to the fact that the geographic distribution of many protist
species is limited and about one third of species might be endemic in a morphological and/or
genetic way (Chao et al. 2006; Foissner 2006).
Morphological and molecular studies suggest that most but not all foraminifera seem to
have restricted geographic distribution. The data presented in Table 1 are based on more
than 1000 studies (Murray 1991) and clearly show that globally distributed foraminiferal
morphospecies represent a small proportion out of the 25 selected species. For some of
them, such as Ammonia beccarii, molecular studies have shown that this morphospecies
actually comprises an assemblage of genetically distinctive lineages. However, this does
not mean that there are no ubiquitous foraminifera. As shown by molecular analyses, at
least one lineage of Ammonia (type 1) has a global distribution. A recent molecular study
shows very weak genetic differentiation between Arctic and Antarctic populations of three
common species of deep-sea foraminifera (Pawlowski et al. 2007). We certainly need more
molecular data to test how widely dispersed deep-sea species are. In the case of shallow-
water foraminifera, however, our data indicate that most species have a limited geographic
distribution.
Does size has something to do with the restricted distribution of most foraminifera?
Compared to other protists, foraminifera are often larger in size and some of them par-
ticularly agglutinated polar and deep-sea species or calcareous tropical species can reach
up to several centimetres in size (Haynes 1981). Yet, the majority of foraminiferal species
measures from 50 to 500 lm, which is within the range of typical meiofaunal size.
Undoubtedly, this is still much larger than some marine picoplanktonic algae (*2 lm),
whose global distribution was demonstrated recently (Slapeta et al. 2006). The dispersal of
such small organisms could be greatly facilitated by water currents. However, the example
of Ammonia type 1 cited above shows that size might not be the main factor responsible for
the dispersal of foraminiferal species. Ammonia specimens belonging to type 1 are within
the
Crie agora seu perfil grátis para visualizar sem restrições.