Grátis
213 pág.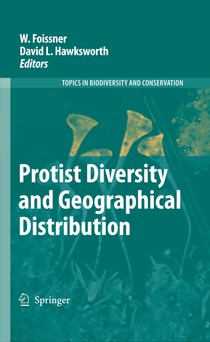 Foissner_Protist Diversity and Geographical Distribution_9048128005
Denunciar
---
Pré-visualização
|

Página 5 de 50
of the
determining processes. The current debate centres on the old hypothesis by the Delft school
of microbiology that free-living microorganisms are globally distributed and ubiquitous,
i.e., that they can be found wherever a suitable habitat exists (see Quispel 1998 for a short
review of the historic background, and Whitfield 2005 and Foissner 2004, 2006 for brief
summaries of the ''everything is everywhere'' view). The controversial discussion and the
advent of novel, mainly molecular tools stimulated research on microbial diversity and
their potential biogeography over the past decade (reviewed by Foissner 2006, 2007; Hahn
2006; Weisse 2006a). In spite of the increased efforts, the range and extent of protist
dispersal, the genotypic and phenotypic diversity, the frequency of sexual reproduction
and, accordingly, the extent of reproductive isolation are at present unknown for the vast
majority of extant, free-living protist species.
The special issue on ''Biogeography of Freshwater Algae'' (Kristiansen 1996a), the
theme section on ''Biogeography of aquatic microbes'' (Dolan 2005), the recent reviews by
Foissner (2006, 2007) and several articles in this issue of BIODIVERSITY and CON-
SERVATION present numerous examples on limited dispersal and biogeographic
differences among major phyla of terrestrial and aquatic protists. The purpose of the
present paper is to discuss the distribution and diversity of protists from an ecological and
evolutionary perspective. In line with Horner-Devine et al. (2004) and Hughes Martiny
et al. (2006), I follow the hypothesis that protist biogeography and diversity is, in principal,
similar to biogeography and diversity of macroorganisms. In particular, I will highlight the
population genetic literature on parthenogenetic zooplankton and suggest that many of the
processes shaping populations in protists will be common to these organisms. This con-
ceptual article will focus on heterotrophic aquatic protists but also include some findings
from autotrophs and from terrestrial environments where appropriate.
Distribution of free-living protists
Significance of the taxonomic resolution
Any census of biological diversity across phylogenetically diverse taxa relies on a
meaningful unit that renders the diversity of the different taxa comparable. Traditionally,
most estimates of biodiversity have used the species as the 'common currency', although it
is well known that species-based approaches ignore other levels of biodiversity (e.g.,
Maddock and Du Plessis 1999; Giller et al. 2004). As outlined by Kristiansen (1996b) and
Schlegel and Meisterfeld (2003), the species problem is still unresolved for major protist
phyla. It is important, in this context of protist diversity, to differentiate between the
meaning of species as an evolutionary unit ('real' species, see Claridge et al. 1997;
Bachmann 1998; Hey 2001) and the meaning of species as a category. Recent work with
bacteria demonstrated that the level of taxonomic resolution is crucial for detecting bio-
geographic differences among microbes (Horner-Devine et al. 2004; Schauer et al. 2006;
Ramette and Tiedje 2007). Accordingly, a pragmatic definition of the species as a category
has to be commonly accepted before any firm conclusion can be drawn on the species-
specific distribution of protists and their biogeography (Mitchell and Meisterfeld 2005).
10 W. Foissner et al. (eds)
The rapidly growing molecular data on diatoms (Amato et al. 2007), dinoflagellates (Kim
et al. 2004), cryptomonads (Hoef-Emden and Melkonian 2003), bodonid (von der Heyden
et al. 2004; von der Heyden and Cavalier-Smith 2005) and chrysomonad flagellates (Bo-
enigk et al. 2005, 2006), amoebae (Wylezich et al. 2002; Smith and Wilkinson 2007),
foraminifera (Darling et al. 1999, 2000), and ciliates (Katz et al. 2005; Barth et al. 2006;
Finlay et al. 2006; Ga¨chter and Weisse 2006; Weisse 2006b; Weisse and Rammer 2006)
implies that the morphospecies concept is, in many cases, too conservative when com-
paring protist diversity to that of most macroorganisms. Application of the morphospecies
concept is also problematic in highly polymorphic species such as Pfiesteria-like dino-
flagellates (Marshall et al. 2006).
Similarly to the morphological approach, evolutionary conserved genes such as the
small subunit ribosomal DNA gene (SSU rDNA), may underestimate protist diversity. In
several major protist phyla, a 1–2% sequence divergence of the SSU rDNA, which has
been equated with morphospecies designations of protists (Jerome et al. 1996; Walochnik
et al. 1999; Snoeyenbos-West et al. 2002; Katz et al. 2005), may not reflect a species
resolution comparable to that of higher taxa (von der Heyden and Cavalier-Smith 2005).
For instance, significant differences in the growth rate response to salinity and a huge
genetic variation in the SSU rRNA gene were found for Bodo designis from seawater,
freshwater and soil (Koch and Ekelund 2005). Strains of B. designis clustered in several
groups, which were not obvious from morphological characters. Another comprehensive
genetic and ecological study with the chrysophyte morphospecies Spumella from many
different environments arrived at the same conclusion (Boenigk et al. 2007). Similarly,
distinct genetic differences, up to 66% divergence of their 5.8 S rDNA and ITS sequences,
and highly significant differences in growth rate response to salinity, with maximum
growth rates ranging from 0.3 to 1.2 d–1, have been reported for the marine flagellate
Oxyrrhis marina (Lowe et al. 2005). Some more examples of similar recent investigations
with ciliates are listed in Table 1. It appears that the variability of the ribosomal genes is
different in the various protist phyla (Table 1). Alternatives to the taxonomy based upon
SSU rDNA analyses and the pros and cons of the molecular approach to protist phylogeny
have recently been reviewed (Schlegel 2003; Schlegel and Meisterfeld 2003).
In conclusion, there is currently no molecular 'gold standard' for protist taxonomy to
solve the species problem, and the units of interest, i.e., species, cannot be recognized with
standard tools across the protist realm (Amato et al. 2007). The current challenge is to
decipher the correspondence between DNA sequence clusters, ecotypes (Turesson 1922)
and (morphologically defined) biological species (Dini and Nyberg 1999; Foissner et al.
2001; Finlay 2004; Boenigk et al. 2005). In other words, the priority is to understand the
interplay of molecular mechanisms with organismic and ecosystem biology (Jackson et al.
2002).
Terminology and the significance of scaling
Similar to the unresolved species problem, the use of ambiguous terminology contributed to
the often emotionally led debate on protist diversity (Finlay et al. 2004). Terms such as
'ubiquitous', 'ubiquitous dispersal' and 'cosmopolitan' are virtually meaningless without
clear spatial and temporal dimensions. The potential for regular, world-wide distribution (=
unlimited distribution) may be high in frequent, widespread taxa that are dispersed passively;
the actual dispersal rates, i.e., dispersal on relatively short time scales (i.e., related to the
organisms' generation time), will be much lower in most taxa (Bohonak and Jenkins 2003).
Protist Diversity and Geographical Distribution 11
T
a
b
le
1
E
x
am
p
le
s
fo
r
se
q
u
en
ce
d
iv
er
g
en
ce
an
d
ec
o
p
h
y
si
o
lo
g
ic
al
d
if
fe
re
n
ce
s
in
m
o
rp
h
o
lo
g
ic
al
ly
in
d
is
ti
n
g
u
is
h
ab
le
(a
t
th
e
li
g
h
t
m
ic
ro
sc
o
p
ic
al
le
v
el
)
fr
ee
-l
iv
in
g
p
ro
ti
st
ta
x
a
T
ax
o
n
in
v
es
ti
g
at
ed
O
ri
g
in
o
f
st
ra
in
s
G
en
es
in
v
es
ti
g
at
ed
S
eq
u
en
ce
d
iv
er
g
en
ce
(%
)
P
h
y
si
o
lo
g
ic
al
v
ar
ia
ti
o
n
in
R
ef
er
en
ce
K
a
re
n
ia
b
re
vi
s
(D
in
o
p
h
y
ce
ae
),
5
st
ra
in
s
M
,
fr
o
m
T
ex
as
an
d
F
lv
1
8
S
rR
N
A
;
IT
Crie agora seu perfil grátis para visualizar sem restrições.